Ultimate™ Pet Undercoat Rake
Grooming Your Pet at Home Has Never Been Easier!
Try our Ultimate™ Pet Undercoat Rake and get rid of all nasty mats, tangles, and knots. Keep your pet's fur healthy, shiny and well-groomed!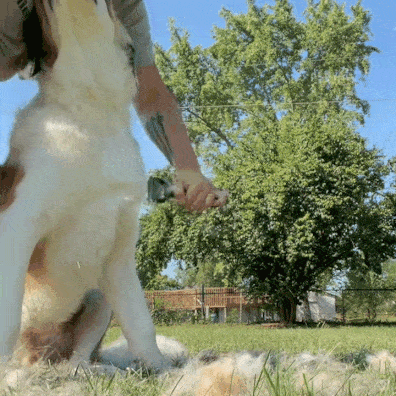 Effective solution to all your pet's hair problems like shedding, tangling, and matted.
WORKS LIKE A CHARM - A Must Try All in One Double-Sided Pet Grooming Brush.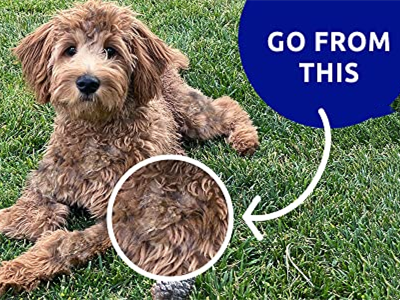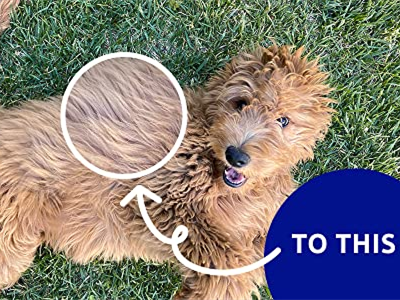 You will be amazed at how much hair will come off after a single use!
Imagine how your dog will love the new healthy and shiny coat after having a grooming session with our grooming tool. Our undercoat rake dramatically reduces shedding by up to 90% after just 1 short session. Perfect for matted, heavy shedding undercoats and extra fur. This is the perfect pet brush for daily deshedding.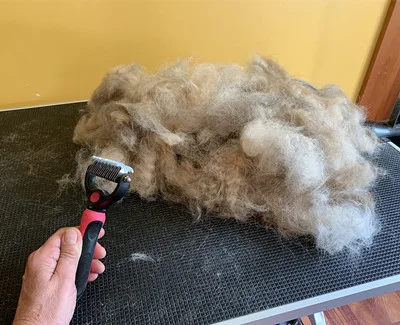 Benefits from our Ultimate™ Pet Undercoat Rake
Multi-purpose grooming tool - Dual head design - the 9 teeth dematting side is perfect for removing mats, tangles, and knots, and the 17 teeth shedding side is best suited for thinning and dashedding loose hair.
Stop pulling the hair out - Slightly sharpened blades smoothly cut through the toughest mats.
Reduce shedding regular brushing removes excess dead hair from your pet's undercoat, leaving you a clean and hair-free home.
Safe for your furry friends - Rounded ends teeth do not scratch or irritate the skin.
Our dematting comb will leave your pet's fur sleek, shiny and healthy,
Perfect for dogs, cats, horses, and rabbits with a medium and long coat.
Perfect for Most Furry Pet
Dog Breeds: Labrador, Husky, Golden Retriever, German Shepherd, Border Collie, Poodle, Saint Bernard, Great Pyrenees, Shiba Inu, Aussiedoodle, Bearded Collie, Schnauzer, Chihuahua, Yorkie, Rottweiler, Newfoundland, Great Dane, Cairn Terrier, Pomeranian, Shih Tzu, Blue Heeler, Bloodhound, Chow Chow, Samoyed, Alaskan, Corgi, Bichon Frise
Cat Breeds: Maine Coon, Ragdoll, Persian, Maine Coon, British Shorthair, Siamese, Exotic, Birman, Bengal, Himalayan, Domestic Long Hair, Norwegian Forest, Scottish Fold, Siberian

Others: Rabbits, Ferrets, etc...
NOTICE: This grooming brush may not suitable for some super short-haired dog or cat breeds like Pitbull, Bulldog, Beagle, Bloodhound, Abyssinian...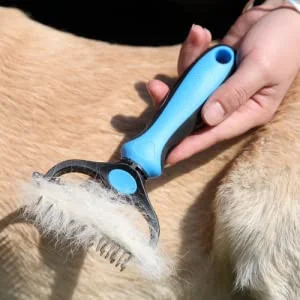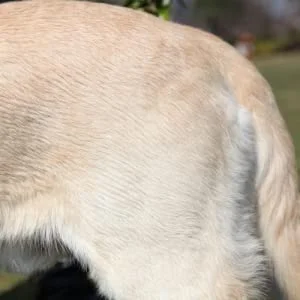 Tips for Achieving the Best Grooming Results
Step 1: Remove mats and tangles with 9 teeth side(Dematting Side)
Start with the side with the fewer teeth and find the most stubborn mats & tangles to break them apart one by one. Brush the area with light and short strokes. Move the brush smoothly and gently when cutting the mats and tangles.
Step 2: Dashed and get rid of loose hair with 17 teeth side(Deshedding Side)
Then you can switch sides of 17 teeth to use the tool's dashedding function. Dashed the whole body to remove the excess, loose hair from the undercoat.
Step 3: Clean the brush and enjoy the impressive results
The soft yet anti-slip rubber handle makes the grooming a fast and comfortable experience for you. Cleaning the rake brush is also effortless after use.
Dual Head Design - Sharp & Rounded End Blades
Stainless Steel Teeth: 9 + 17 rust-resistant blades, effectively reaches deep down to the undercoat.Super easy to cut the mats,tangles and groom the extra hair of your pet.With the rounded end design,this rake brush will be safe to your pet skin.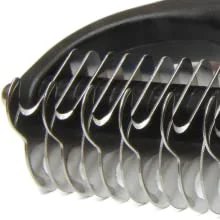 Comfortable & Non Slip Rubber Handle
Ergonomic Anti-Slip Handle: environmentally sustainable, non-slip, comfortable & snug fit giving you great control minus the hand cramps.It ensures a comfortable and easy grooming time with your pets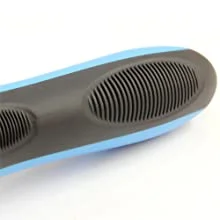 Get Outstanding Grooming Results with This Deshedding Tool
You'll get remarkable results with every stroke of the dog brush. And you'll be amazed at just how much loose hair comes off your furry friends!This undercoat brush is perfect for deshedding/dematting long-haired and medium-haired dogs & cats breeds.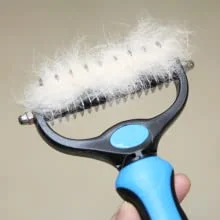 Absolutely Gentle and Safe for Your Furry Friends
No pain and no scratch - Undercoat Rake provides a gentle and precise dematting experience for your pets' sensitive skin. Perfect grooming rake for dogs, cats, rabbits, and any other pets with long and thick hair.
Effectively Reduce Shedding by Up to 95%
The non-slip handle is ergonomically designed for a comfortable grip and ensures a safe deshedding experience for you and your pet. Simply comb gently over your dog's or cat's coat, within seconds you will have a fistful of fur and within minutes you will be amazed by the amount of loose hair that has been removed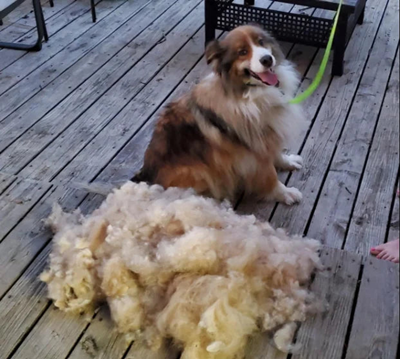 Product Dimensions
Small 6.7 x 2.7 x 1.8 inches
Large 6.7 x 3.5 x 2 inches
Our Guarantee:
We pride ourselves on our products as we believe they are amazing. However, we understand that buying online, especially for the first time, can be daunting. That's why we offer a 100% satisfaction guarantee.

If for any reason you don't have a positive experience, we will do everything we can to ensure that you are 100% satisfied with your purchase.