Flawless Foundation Brush
The Flawless Foundation Brush is a professional foundation brush to achieve a smooth and poreless coverage finish in seconds. It is an innovative face brush that is portable to have it around you!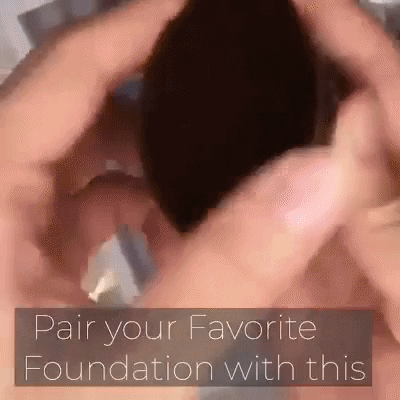 Made of soft natural fiber that is comfortable on the skin and the bristles are designed to be effective in grabbing makeup power! Our 6 mm brush diameter can be widely used as a contour brush, blusher brush, foundation brush or bronzer brush, and etc. We know that carrying tons of long makeup brushes is annoying, so let's get this light and convenient brush now!
for a quick makeup - the brush surface diameter is 60 mm, it's a large brush that helps you finish your make up quicker and saves your time and effort
well-chosen fiber - made with a well-chosen wool fiber that is smooth and easy to apply an even and natural foundation makeup
diamond shape handle - its ultra-soft and unique hexagon diamond shape is thoughtfully designed with a curve to position your fingers for easy gripping
easy to carry - our make-up brush is portable and lightweight, with the eco-friendly protecting case that won't stain the brush, perfect for you to carry on the go
versatile - widely used for powder, liquid, concealer, cream, blush, concealer, foundation cosmetics, and more
How to use:
apply the foundation liquid to the face and wipe it
wipe the brush head evenly in a large area
brush the concave and convex surface around the eyes and ala nasi and you're done
Steps to clean the makeup brush:
brush your bristles under warm water, do not use hot water as high-temperature can damage the bristles
pour some brush cleaner or baby shampoo into the water
dip the brush into the mixture and rotate
the lower part of the brush's bristles swirls in the mixture to prevent water from flowing through the handle
rinse the bristles with warm water
pat the bristles to dry them and reshape them
let the brush dry naturally
Material: wool fiber, plastic (handle)
Size: 4.5 cm x 6 cm (1.7 in x 2.3 in)
Package includes: 1 x brush (with storage box)